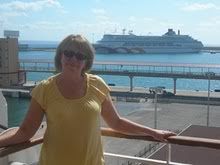 Jane was known to so many of us. She lost her battle with kidney cancer today. What a fighter this lady was, what an inspiration, never losing her determination nor her sense of humour. A shining example of how to act in the face of terrible adversity.
This was true courage.
Our thoughts are with her family. Martin, her husband, is also an example, an example of true love. That love for Jane shone through in his writings about her as he kept us updated on her progress after she became so unwell she could no longer write herself.
Our condolences go to her three children, Martin and her extended family at this saddest of all times.
She is now at peace, no more pain.
A new angel in heaven.
Sleep well, Jane, you will never be forgotten.
The link to her journal. Please visit and leave your own memories and condolences. I have informed Martin that Jane has her place here now with our other much loved departed friends.
http://a-journey-of-another-kind.blogspot.com/